If you measure time in 10ths, consider measuring the benefits of a pair of our aerodynamic mirrors. The science is simple - Pro Aero Extreme mirrors were designed in the wind tunnel.

The result is greatly improved aerodynamics enhanced by our patented Aero Extreme lens which reduce drag by more than 55%.

A pair of ourPro Aero Extreme mirrors will improve your lap times.

Using the same aero technology from Pro Series, we developed and refined our range of competition mirrors - in genuine carbon fiber and in plastic.

Going faster is as easy as bolting on a set of Pro Aero Extreme.
Our Professional Series mirrors are designed to do a lot less too: less mirror vibration, less than 5.0oz, and far less distortion from clear convex mirror lenses.

Club Series is available in three designs (Elliptical, Rectangular, Club GT) and shares many aerodynamic features with the Professional Series. Club Series focuses on offering exceptional value, high quality and serious technology.

Available in genuine carbon fiber and tough UV-resistant plastic. Aluminum stems and CNC mounts are polished and anodized black with your choice of straight stems or angled stems.
Professional Mounts
Our mirrors are designed to be aerodynamic and so too are our Pro Mounts. They are definitely unique in that they mount on the underside of the bodywork - out of the airflow - and are milled in 6061 aluminum.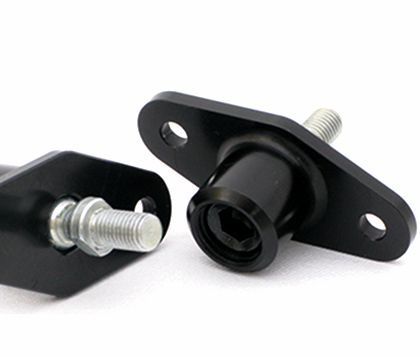 Club Mounts
Also milled from 6061 aluminum then polished and anodized, Club Mounts are impressively strong and light. Racing is about speed but we also value presentation, and we're proud of the quality and presentation of our Club Mounts.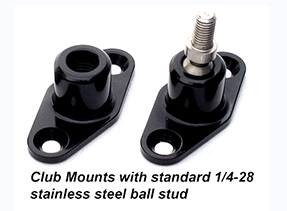 Extended & Aero Mounts
Extended Mount is an inch longer to align with the mirror mounting holes on most classic 60s and 70s English, Japanese and American cars.
Extended and Aero Mounts are available as an option on Club Series (inc CIS GT)
and Dash-Mount.